Next important dates !
Trainings
During bank holidays, trainings will take as usually scheduled.
On Saturday 14 April from 9 to 12, Leo will give a training based on breathing. Everyone is welcome.
Regional trainings and championships
The coupes des Alpes training and championship will take place this weekend.
We have two teams and ronins participating.
Some of you will try to pass the grade examination, show your best kendo!
Club life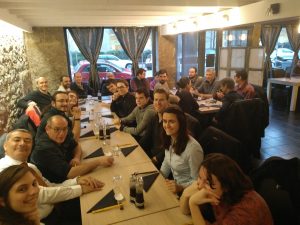 The General Assembly will take place on Friday 22 June from 7 pm to 10 pm. Add this event to your agenda!
The dinner at Shun Bun restaurant was a franc success! Thank you very much for coming!
From now on, executive committee reports are accessible to everyone. You can find them on this website page : 
Documents et liens
 (in French).
Technical director's note
On the weekend, the 26th Coupe des Alpes will take place in Chambéry. Here is a reminder to what is required for championships and grade examination.
For the championships, arbitrators seek 6 elements : correct ki, position and body movement. They will also watch whether the last third of the shinai cuts the right part of the armour as well as the zenshin.
For grade examination, also 6 elements are sought : distance, opportunity, body movement, te no uchi, power and skilfulness.
According to :  Moutarde Silvain Kyoshi 7th Dan / Armand Roger Regional Techincal Director AuRa Kendo Renshi 7th Dan
Bonus
Japanese terminology lexicon
You may need to verify some words you heard or just be curious. You can read the Japanese terminology lexicon written by Jean-François Rauch and checked by Georges Bresset and Alban Aramendy (in French and Japanese).